The day started dry which was great considering the forecast. The race officer made a wise decision to combine the fleets into a passage race because windward leeward would have been hopeless in the absence of wind. A passage race gave us the opportunity to exploit the possibilities of tidal sailing. It was lovely to have the boat converted into race mode, stripping luxuries out such as one of the televisions. However we kept the cupboards full of alcohol. The collie dog, Mia, made a good job of the start tactics, crossing the start line second last.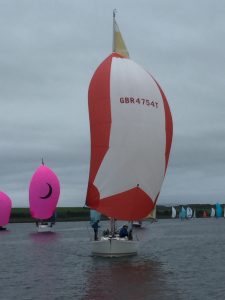 However, this did provide the benefit of being able to see the holes that the other boats sailed into. The crew managed to rouse themself out of their drunken slumber and sheeted the sails in with fine style. A tight reach from the start line soon turned into a beat after the first mark. Rory called a good shout with a lightening tack up to the shore. From ducking and diving, weaving through some moody 336's saw us down at the next mark and ready to put the spinnaker up.
Storm, Kirsten and Alex made a great job of getting the spinnaker sheeted. Max and Hamish trimmed the main, the point of Shuna was fast approaching. Finn and Nicola executed a perfect jibe, controlled beautifully by the crew. Kim made a star cameo for one day only producing great lunch. The sound of guns ahead welcomed a shortened course – an excellent call from the race officer as the rain started right away. Back to Croabh, boom tent back on and a few small refreshments.
Well done to the Whole crew.