Craobh to Oban Passage Race- Class 6
Today I went sailing with Mummy on Granny and Grandad's boat. I woke up nice and early to prepare for a serious day of racing, but I was too excited and peaked early so had to be put down for nap as we left the dock.
I'm told that the start was nice and windy without too much drama, and that the windward leg went off without a hitch. I decided to join the rest of the crew about half way down the Sound of Luing, at which point a delicious lunch was served. I remember eating a particularly tasty bit of cheese as the first of the Class 1 boats started to overtake us. Their sails have lots of pretty colours.
I chewed on ropes for a bit and had a good play with a winch then daddy sailed past in his boat Satisfaction and I got to wave at all my friends.
I got to see a pretty boat called Chico with lots of flags when we finished the race. Mummy said I had to wave nicely at the race committee because they work very hard to let us go sailing. Then Mummy tried to make me have another nap… but I decided I didn't want one.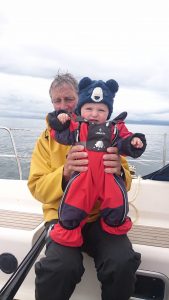 By Emily Marshall, Celerity (7 months, 3 weeks)